How to Celebrate New Year's Eve in Las Vegas: Parties, Shows, Activities, and More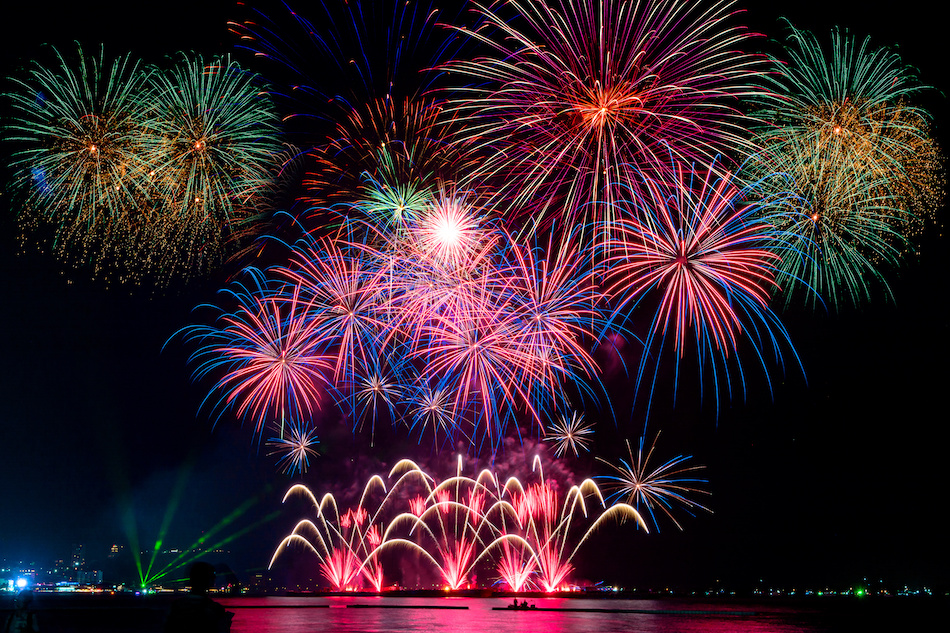 As one of the premier party capitals of the world, Las Vegas makes its their mission to ring in the new year in style. When people come down to Vegas to celebrate New Year's Eve, they can treat themselves to some of the best events and activities to hit the region.
But, with so much to see and do, it is important to know just where to go — and how to make the most of the trip — or they could miss out on the fun. To get the lowdown on all these details, and prepare for this trip of a lifetime, use this informative guide on celebrating New Year's in Las Vegas.
Table of Contents
Transportation Planning
Depending on their distance from the city, people can either book a flight to Las Vegas, take a long-distance bus, or plan a road trip. Both the bus and road trip options can take up a lot of time and energy, leaving less overall for the evening's activities. Flights, however, can prove difficult to book at a good price unless travelers secure their tickets early enough.
As New Year's draws ever closer, the price of flights to Las Vegas climbs ever upward. Last minute flights are several times more expensive than similar flights booked well in advance. Saving money comes down to making plans early in the year and booking all the flights (and accommodations) at that time.
Secure the Perfect Hotel Accommodations
To manage the crowds on New Year's Eve, casinos across Las Vegas limit visitors to those staying in their hotels for the night. So, travelers need to choose their accommodations wisely if they have their hearts set on visiting one casino in particular that night.
Popular hotels to stay at for New Year's include:
Bellagio
Treasure Island
Delano
MGM Grand
Stratosphere
Careful consideration is also needed because the streets get packed on this holiday, making travel times slow. Booking accommodations near the shows and other activities on the itinerary can make things much less stressful.
By looking at these two areas, and the travel budget, travelers can pinpoint their perfect hotel accommodations. Booking a room is a different story, however, unless they act early. Rooms tend to fill up fast, leaving people with whatever they can get in that moment. As this occurs, the price of hotel rooms tends to climb, as it does for flights. For that reason, everyone should try to book by early summer to get their preferred rooms at a reasonable price.
What to Bring for New Year's in Las Vegas
With so many different types of events to attend on New Year's in Las Vegas, travelers must pack all the right items to ensure they are ready for anything. Since winter will be in full force at that time, and events will be indoors and out, layering will come in handy. While packing, keep in mind that temperatures will likely dip down into the 30s as dusk arrives. By midnight, it will be more than chilly enough for a big winter jacket.
When packing for this trip, travelers should remember to bring:
Warm jacket
Sweater or light jacket
Comfortable walking shoes
Dress shoes with small carrying bag
Winter hat
Money belt
Although normally strict, Las Vegas night club dress codes tighten up even more for New Year's celebrations. To avoid getting refused at the door, people should wear semi-formal outfits. Women should bring along a cocktail dress or pantsuit to be worn with dressy heels or flats. Men should pack a pair of nice fitting jeans or slacks along with a sport coat, though a suit is great, too. Other venues do not have such tight dress code restrictions, so everyday wear will work well for the rest of the outfits.
New Year's Safety Considerations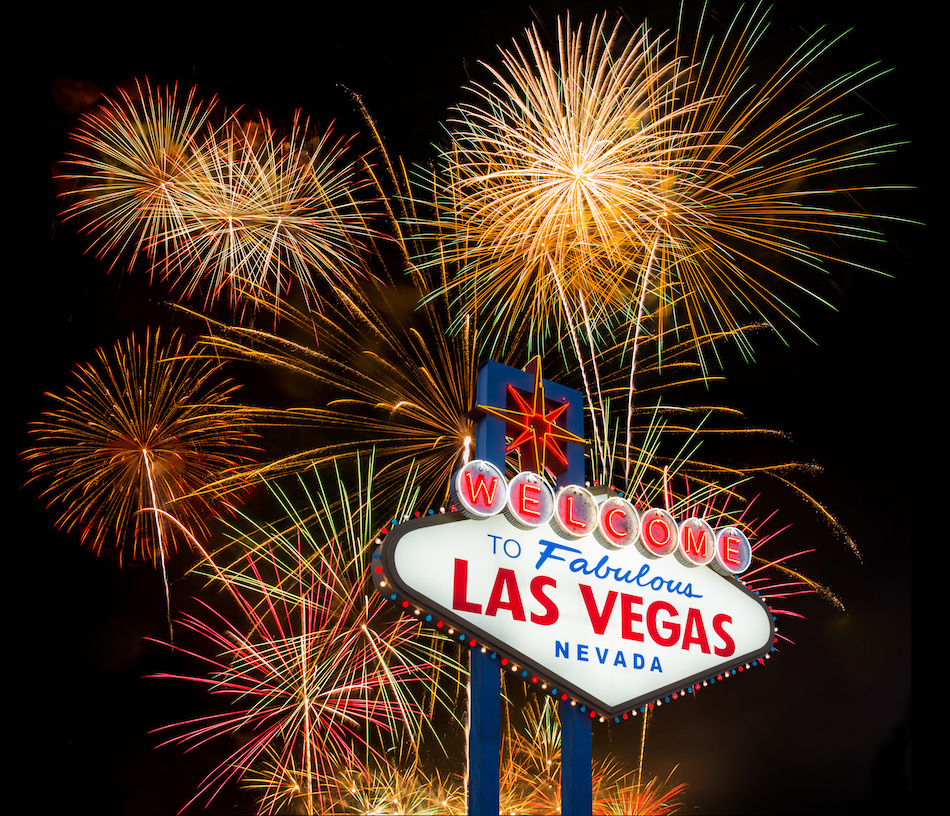 In Las Vegas on New Year's Eve, they shut down the Strip to all traffic at 4 pm through well past midnight. So, everyone should plan to arrive earlier than that and get settled before the fun begins.
Once they close to traffic, the streets almost immediately fill with revelers, creating large crowds. Everyone packs in even more as the clock ticks down to midnight and for about 30 minutes afterward. During that time, use general crowd safety tips to stay safe:
Be aware of the surroundings and watch for suspicious activity
Note the location of police and security in the crowd
Keep belongings secure and inaccessible by others
Find a good place to stay on the edge of the crowd
Leave if the crowd seems to get wild or out of control
Upon arriving, let the group members know of the designated meeting place if anyone gets separated. Make sure all cellphones are fully charged and working properly before setting out for the night of fun.
Where to Find Amazing Food and Drinks
Although it is more expensive to eat at the restaurants along the Strip, it is well worth the extra cost to do so on New Year's Eve. Since the main road will be closed from 4pm on, getting to cheaper restaurants will likely not be worth the hassle. Instead, head to one of the amazing restaurants on the Strip that allows guests to avoid the crowds and watch fireworks from their patio, such as:
The Barrymore
Hard Rock Café
Cabo Wabo Cantina
Mon Ami Gabi
Most restaurants will not take reservations for their patio area, however, designating it as first-come, first-serve only. So, have a couple in mind before heading out and create a backup plan in case everything is already full. The many hotels in the area have lounges as well, but they may only be open to guests staying in their rooms that night.
Top Things to Do in Las Vegas on New Year's Eve
With events, shows, and activities running every hour of the day, there is no shortage of fun things to do in Las Vegas. This goes double for New Year's Eve when all the venues bring out their best entertainment for the night. Here's a glimpse of all the fun things to do on this special night.
Parties
Hotels, nightclubs, and many other venues in Las Vegas celebrate New Year's with parties and other special events. But what draws the biggest crowds are the fireworks shows along the Strip and at the Fremont Street Experience. At both these events, the live music, light shows, and other special attractions promise to keep the fun going all through the night.
For those who prefer to do something a little different, consider:
At many of these parties, the cover charge includes access to the open bar, but food is extra. To ensure they are covering all their bases, everyone should ask what the ticket includes before booking their spot.
Shows
From live music to magic acts, there is something for everyone at the many shows scheduled for New Year's Eve in Las Vegas. Here's a rundown of the best shows on tap for that evening.
Dinner is not generally part of the show experience, so travelers should hit their favorite restaurants before attending these acts.
Most venues have bars right inside, however, making it easy to pick up a drink to take into the show. Some even have a switch to plastic station that allows guests to pour their drinks into plastic cups. They can then take their beverages into the shows and even out onto the street without a problem.
Activities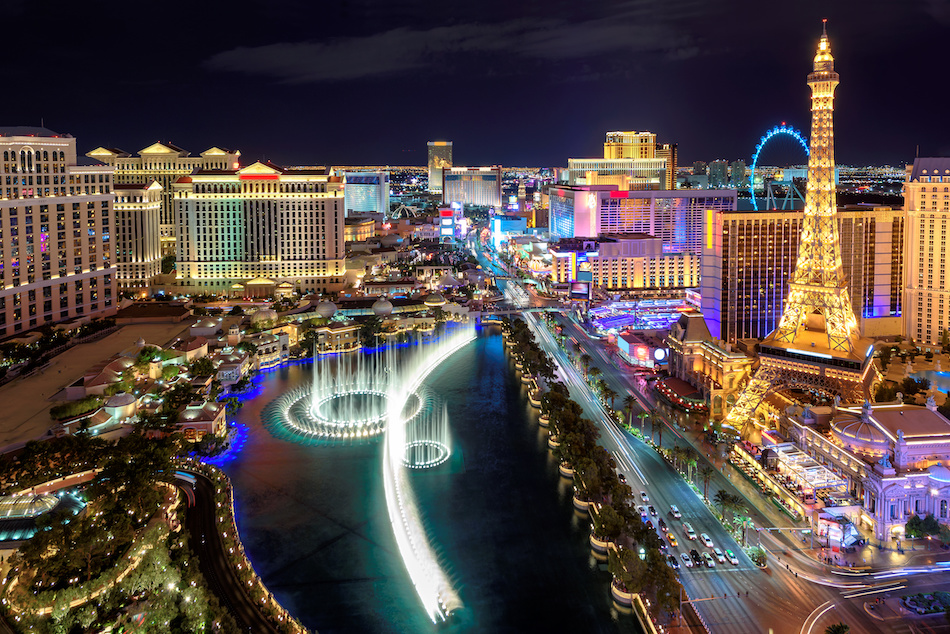 If parties, concerts, and magic shows are not enough, that's okay because there is so much more to experience in Vegas on New Year's. Check out these options to make the night even more amazing.
Observation Wheel
The High Roller observation wheel takes riders 550 feet above the Vegas Strip where they can see all the action down below and the fireworks above at the same time. The round trip takes about half an hour, giving everyone a chance to soak in the sights. Before leaving, guests can stop at the Total Snapshot kiosk to buy a photo to remember the experience by. For the ultimate experience, guests can elect to ride in the open bar cabin with the Happy Half Hour ticket.
Eiffel Tower View
With a trip up to the Eiffel Tower Viewing Deck, travelers can take in a breathtaking view of the surrounding cityscape and the fireworks along the skyline. This replica of the Paris landmark takes guests 46 stories into the sky where they can see it all with ease. Every half hour, the tower lights up with over 1,000 synchronized bulbs with both color and white strobe effects. Like the observation wheel, they also have a kiosk where guests can buy a commemorative photo of their group.
Ice Skating
As winter arrives, the Boulevard Pool at the Cosmopolitan hotel turns into a 4,200 square foot ice rink. While at the rink, guests can spend their New Year's jetting across the ice, sipping hot cocoa, and roasting marshmallows by the fire. With magnificent views of the Strip all around, they can also see all the fun and fireworks while practicing their pirouettes.
Helicopter Tour
For an unmatched view of the skyline, take the Jack of Lights helicopter tour, which comes with a limo ride to and from the hotel. The tour takes riders over the many incredible venues in the region, including:
Stratosphere Tower
The Venetian
Caesars Palace
New York New York
All guests receive a glass of champagne before heading out on the tour, helping prepare them for this uplifting experience. Music and commentary keep the fun going as the helicopter takes everyone over the stunning landmarks across the cityscape.
If there is not enough time on New Year's Eve to fit in all these activities, everyone can return the next day to give them a try. With the exception of the ice skating rink, which is only open through the winter season, these activities tend to remain in operation year-round.
Keeping the Celebration Going into the New Year
Las Vegas never has a lack of fun shows, events, and activities to enjoy — and New Year's Day is no exception. Shows playing that day include:
The casinos also return to their normal operations, allowing people to come and go as they please.
Despite all the exciting things to do, many spend the day recovering from the night before with a long brunch and a trip to Lagasse's Stadium to watch the many college football games on that day. Many of the local hotels offer brunch packages, though some are by invitation only and most others require reservations made well in advance.
No matter how people want to spend their time, Las Vegas offers everything they could want and more, especially through New Year's. And with this guide, everyone can make the most of their trip and have the time of their lives.