The Most Desirable Las Vegas Neighborhoods With No HOA
Posted by Robert Little on Tuesday, December 28, 2021 at 12:11 PM
By Robert Little / December 28, 2021
Comment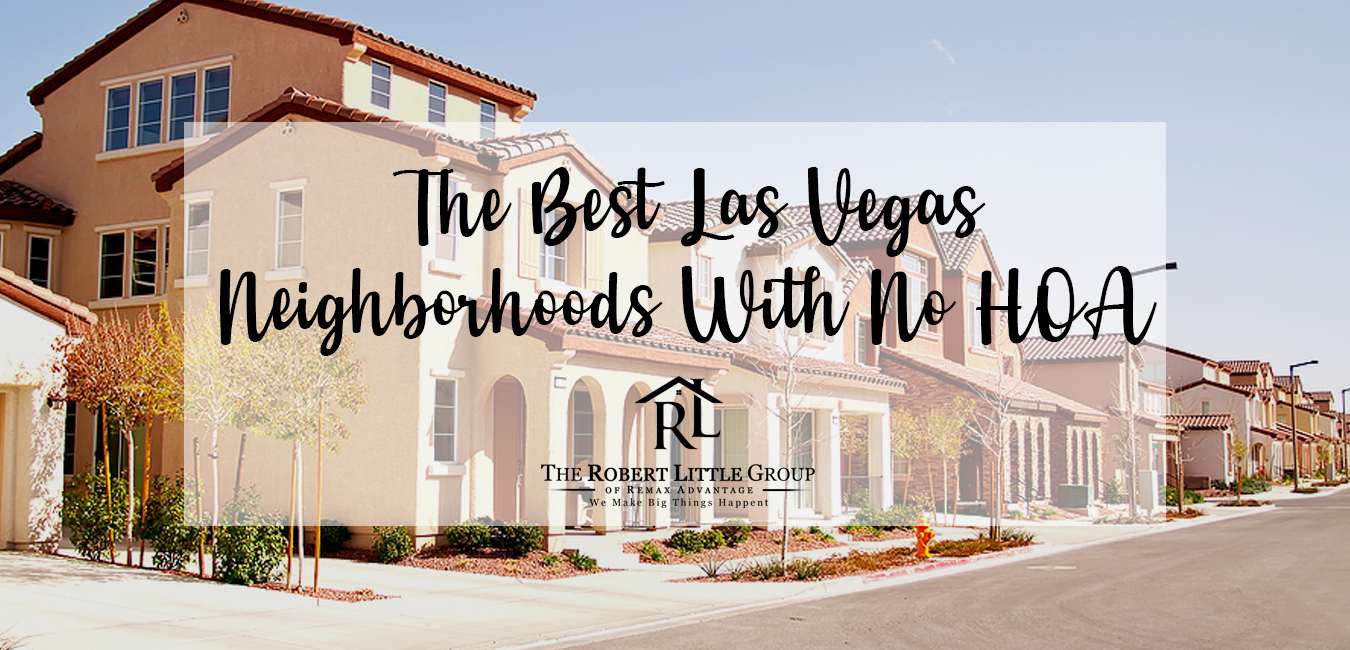 If you're searching for a top Las Vegas neighborhood without an HOA, here are a few great options to being your home search:
El Encanto South
The established neighborhood of El Encanto South was mostly built up around the late 1970s to mid 1980s. Homes in this part of Vegas tend to come with three- to four-bedrooms, but no extra HOA fees.
Watkins Manor
Watkins Manor is a neighborhood of single-family homes constructed around the same time period. Some of the homes in this part of Las Vegas enjoy mountain views from private balconies and outdoor space. The lack of an HOA is also what makes the homes of Watkins Manor attractive to certain buyers.
Cinnamon Ridge
Cinnamon Ridge has some homes dating back to the late 1990s. The neighborhood sits in North Las Vegas, close to parks, schools and conveniences, but it's also a quiet place to search for a home. While you will find some private swimming pools in Cinnamon Ridge, there's no HOA.
Canyon Meadows
Homes in Canyon Meadows tend to be competitively priced, with three or more bedrooms. Built up around the late 1990s, this attractive neighborhood is close to what you need and want in the surrounding community, but there are no HOA fees.
Looking for a Las Vegas home with no additional expenses?
Search
Las Vegas homes with no HOA
, or contact The Robert Little Group with Remax Advantage, local Las Vegas real estate pros, for all your home buying or selling needs!
Charleston Place
Charleston Place is another top community in Las Vegas with spacious yet affordable homes. As an established part of Las Vegas is another good option for those hoping to avoid living in a neighborhood with an HOA.
Scotch 80s
Located just south of Downtown Las Vegas and almost directly across the expressway from the Arts District, the Scotch 80s neighborhood is one of Las Vegas's true hidden gems, especially among communities with no HOA dues. Homes for sale in Scotch 80s are larger and upscale in most cases, with home prices generally falling between $800,000 and $1.5 million. Easy access to major highways also make any commute to and from work a breeze when living in Scotch 80s, and as alluded to above, the homes tend to speak for themselves.
Twin Lakes Village
Twin Lakes Village provides a convenient location as well, positioning its residents close to major roadways and shopping areas in this part of Las Vegas. While homes in Twin Lakes Village do tend to be older in this neighborhood, buyers also don't have to worry about the regulations of an HOA.
McNeil Estates
Often referred to as simply "McNeil," the historic McNeil Estates neighborhood is loaded with classic ranch-style, mid-century modern-style, and Desert modern-style homes that rarely disappoint prospective home buyers looking for a fabulous new place to live in Las Vegas. Most McNeil Estates homes were built back in the '60s, although a few here and there date back to the 1940s and 1950s. The neighborhood's location is also rather convenient as well and sits next to major highways, the University Medical Center of Souther Nevada, and countless other major employers in the nearby Arts District, as well as Downtown Las Vegas. Look for home prices in McNeil Estates to be fairly wide-ranging and fall somewhere between $450,000 and $1.7 million.
Monterey Mesa
The homes of Monterey Mesa were mostly built up around the late 1980s. Homes in this part of Las Vegas often include three- to four-bedrooms and two-baths. The neighborhood does not have an HOA.
Las Vegas Homes With No HOA Related Content: