How to Read Your Home Inspection Report
Posted by Robert Little on Friday, August 16, 2019 at 1:33 PM
By Robert Little / August 16, 2019
Comment
Find the home of your dreams: Check!

Go under contract & start your due diligence: Check!

Your home inspection report comes back and you totally understand it: Not Really!
Don't worry! Here's a quick guide on how to navigate a home inspection report & what you should really be looking for.
1. Summary
Every good home inspection report should have a clear summary. This can give you an overall picture of the home's health and how many major safety issues exist.
Keep in mind that your inspector may classify certain issues as maintenance or recommendations, so the numbers may not always be as scary as they look at first glance.
*Note: Some home inspectors disable this feature in their reports, so not all reports may have the "circle or bubble" counts.

2. Filters
When you're vetting home inspectors check their website or call and ask for a sample report.
If your inspector delivers a web-based home inspection report it should have filters that make it easy to filter the report and only see the main issues they found.


You'll want to work with your agent to decide what major or minor items you want to ask the seller to fix or credit you. This will depend on many factors so you'll want to defer to your agent's expertise.
3. The Actual Recommendations
Each inspector has their own way of describing common home inspection issues, observations, recommendations or defects. There will be an additional explanation under each title to help you understand the issue more and explain to the seller or a contractor what needs to be done.
Some reports also have what type of contractor you should call to get estimates and/or have the work completed.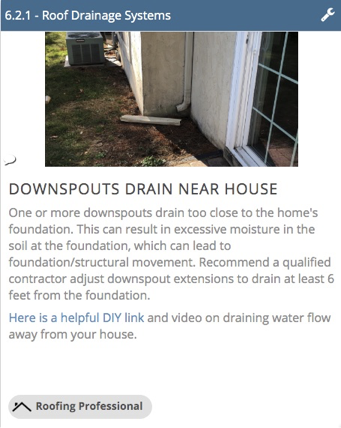 4. Easy Menu Navigation
A good report with menu navigation will help you jump to any particular section of the report to only see what defects or recommendations are present in that area of the home.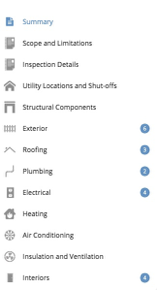 5. Informational Sections
Every good home inspection report should give you informational attributes of your home.

These sections will help you learn about the styles and materials of your new home and help in the future when the guy at Home Depot asks you what your water distribution lines are made of.
Now you have the basics down on how to navigate your report and find the important information you need. Now you're probably wondering just how concerned you should be about all of this info.
Remember: Every home has issues. Even new construction homes. It's up to you and your agent to decide what you can live with and fix later vs. what is an absolute must in order to move in.
As you're viewing the home inspection report you just want to make sure understand 1) the major issues (if there are any) you will want to have the seller remedy and 2) the future maintenance issues to be aware of.
Most of the time, sellers and buyers come to a reasonable agreement about what to fix or give credit for.
If you want to find a home inspector that has a report style that you saw in this article, you can find a home inspector here.