Common Spanish Home Features & Characteristics
Posted by Robert Little on Tuesday, January 10, 2023 at 5:45 AM
By Robert Little / January 10, 2023
Comment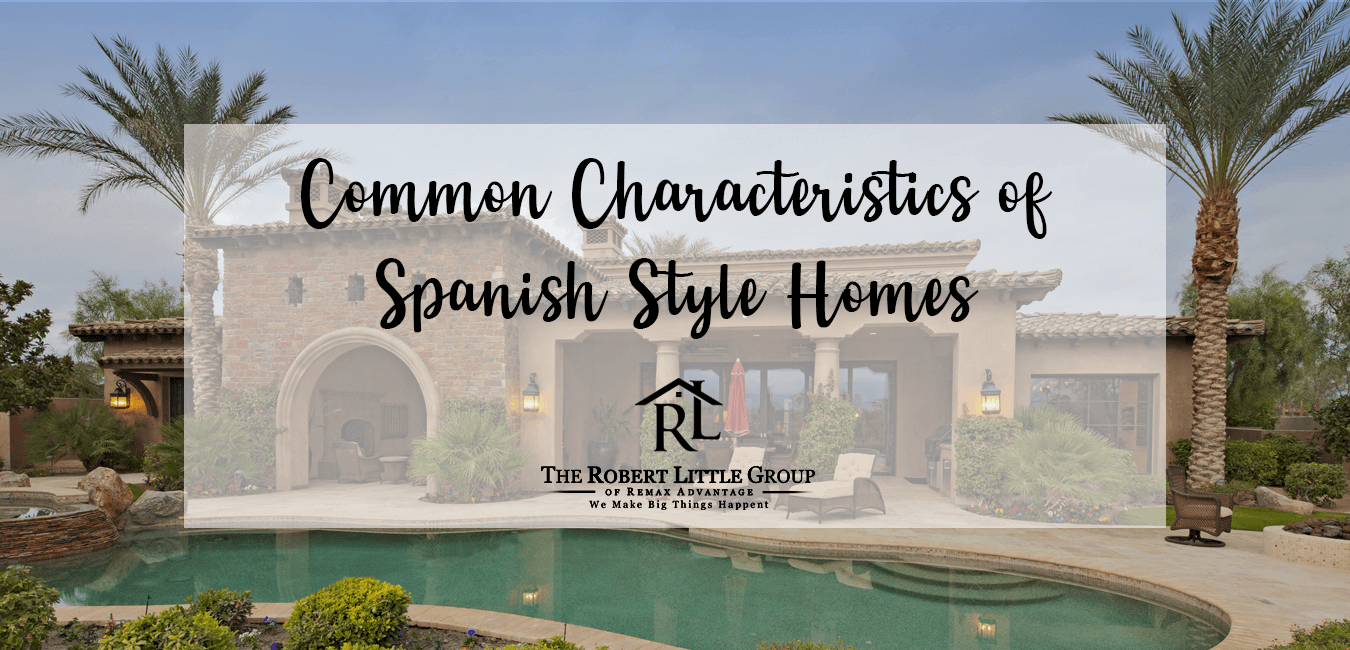 If you're like most, the Spanish style home has at some point caught your eye. As a very distinct style, Spanish colonial style architecture, also known as Moorish or Mediterranean architecture, has been an enduring style of home since their beginnings in the 1600's, enjoying a major revival in the early 1900's. It was at this point when it established itself as a cornerstone of North American architecture.
Not surprisingly, the Spanish colonial style of home has proven to be most popular in warmer, southern regions, such as California, Arizona, New Mexico and Florida, but it has made its way across the United States. These days, however, you will come across Spanish-style homes in Nevada, Missouri and even New Jersey as well, a testament to its versatility as well as its popularity. Spanish homes are easily identifiable by an array of common characteristics which make them ever-attractive to the prospective homebuyer. Let's take a look at some of these attributes which account for the enduring popularity of this iconic style of home.
Barrel Roof Tiles
The classic eye-catching red barrel tile roof is another classic feature of the Spanish style home. Often made of terracotta or concrete, these tiles create an attractive pattern and uniformity to bring together the varying elements of this style. Their material and color makes them well-suited for warmer climates and complement the gardens and iron wrought features characteristic of the Mediterranean home. They also may echo the commonly seen stone walkways or interior floors, which are cool to one's feet and consistent with the cooler indoor temperatures.
Courtyards and Balconies
The grace and charm of Spanish style homes is often enhanced by an enclosed courtyard with a manicured garden and even a stone fountain added as a soothing centerpiece or elegant accent. In these gardens, homeowners will often focus on drought-resistant plants. There are commonly palm trees on the grounds as well. Wrought-iron balconies often extend from second-story bedrooms, adding to the airy flow of the home.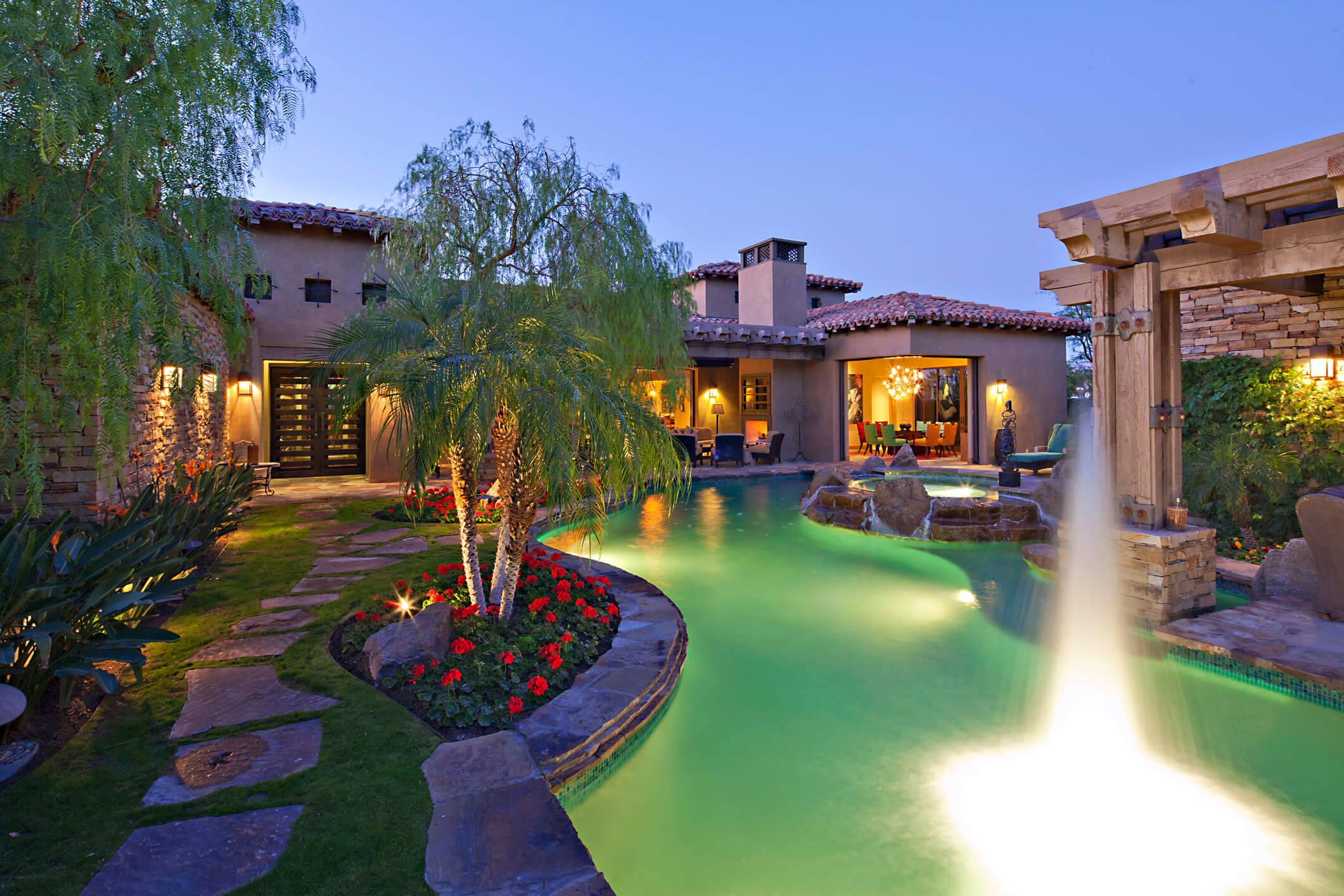 Love the charm and character of Spanish architecure? Check out
Spanish style homes for sale in Las Vegas
, or contact The Robert Little Group directly if you're thinking about buying or selling anywhere in the Las Vegas area!
Curves and Arches
The curved walls and graceful arches are trademarks of the Spanish style home. They are both welcoming and attractive, delighting those who visit for a summer cocktail party in the garden or walk through the cool, airy house. Additionally, curves and arches create a lovely atmosphere of movement in the home and have the power to transform the space and one's state of mind.
Wid-Ranging Aesthetics
One major appeal of Spanish style homes is the wide range of aesthetic, from minimal to more ornate. They are either one or two-story, giving a homebuyer more options, depending on their taste and needs. Similarly, a Spanish style home may go light on the embellishments, or it may lean toward more ornate, satisfying a variety of design tastes. Homebuyers can opt for a one-story more minimal design, or go for a two-story with colorful tile accents. Each home tends to be unique and offer its own trove of wonderful characteristics, certain to satisfy the right homebuyer.
Wood Support Beams
Adding to the high ceilings of the common rooms in Spanish style homes are exposed wood support beams. These add a rustic touch, while accentuating the height and contours of the ceiling. As your eyes are drawn upwards towards the raw wood, there is often a very carefully designed living space underneath, dotted with inviting couches, terracotta pots and even a tiled hearth as the central attraction or heart of the room.
White Stucco Walls with a Smooth Surface
The gleaming white walls of the Spanish style home are some of the first recognizable and pleasing characteristics. The walls can be made of stucco or concrete. Some of the more modern Spanish homes now use white brick for their facade. The light color is heat resistant and keeps the interior of the house cool. It also complements the gardens commonly seen in the enclosed courtyards of Spanish style homes. Of course wrought iron details, commonly seen in Spanish Colonials, also look striking against the white walls.