Our Shortlist of Scenic Las Vegas Area Bike Trails For Families To Enjoy
Posted by Robert Little on Saturday, June 24, 2023 at 2:37:03 PM
By Robert Little / June 24, 2023
Comment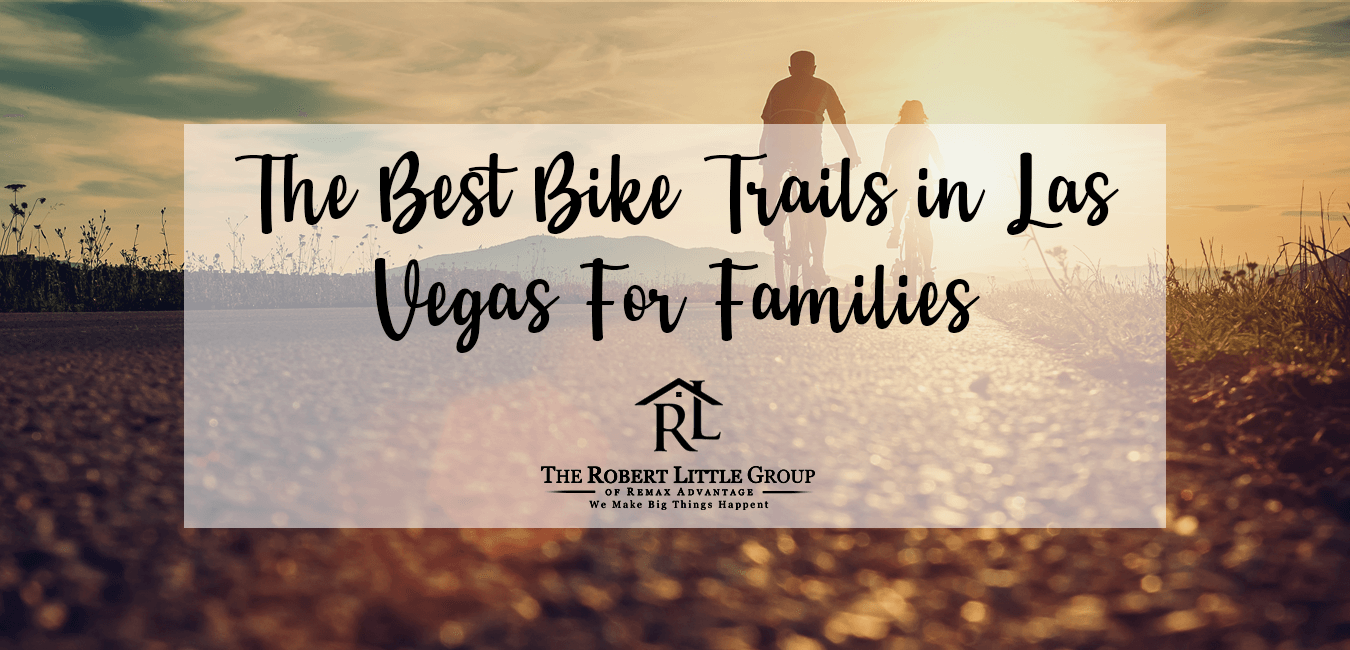 One of my many reasons people are excited to put down roots in Las Vegas is its expansive natural beauty. Surrounded by the Sierra Nevada Mountains and the Spring Mountains, the days are warm and sunny and the nights are cool, which means ample opportunities to enjoy outdoor activities. The area is home to a number of bike trails that are perfect for leisurely rides with the entire family or intense exercise to stay in shape. These bike trails showcase Las Vegas's stunning landscapes and ensure that there is no shortage of nature to explore. All you need to get started is a reliable set of wheels, a well-fitted helmet, and some water to keep you hydrated throughout the day.
Historic Railroad Trail
Situated amongst the hills of Lake Mead's southern shores, the Historic Railroad Trail is beloved for its breathtaking views. The trail is 3.7 miles long and the wide path is made up of hard, packed dirt and gravel. Riders should be careful, as there are no guard rails, but there is plenty of space for multiple riders to share the road. Featured along the trail are five tunnels that date back to the 1930s, which were initially built so that trains would be able to pass through. Those who ride the Historic Railroad Trail to the end will find themselves at the visitor parking lot for the Hoover Dam. While residents are likely to frequent this trail time and time again, it's also the perfect activity to share with visiting guests from out of town.
Pitman Wash Trail
Henderson is one of the most desirable suburbs in the greater Las Vegas area, and Pitman Wash Trail offers a peaceful and serene four mile long path through dry wash. The trail is paved for smooth and easy ride, and it runs through Arroyo Grande Sports Complex as well as Pecos Legacy Park where you can enjoy areas complete with benches, picnic tables, restrooms, and water fountains. Children will also enjoy afternoons spent on the playgrounds between bike rides. Pitman Wash Trail uses tunnels and bridges to cross roadways and no roads run parallel, ensuring a greater level of safety than other public bike paths.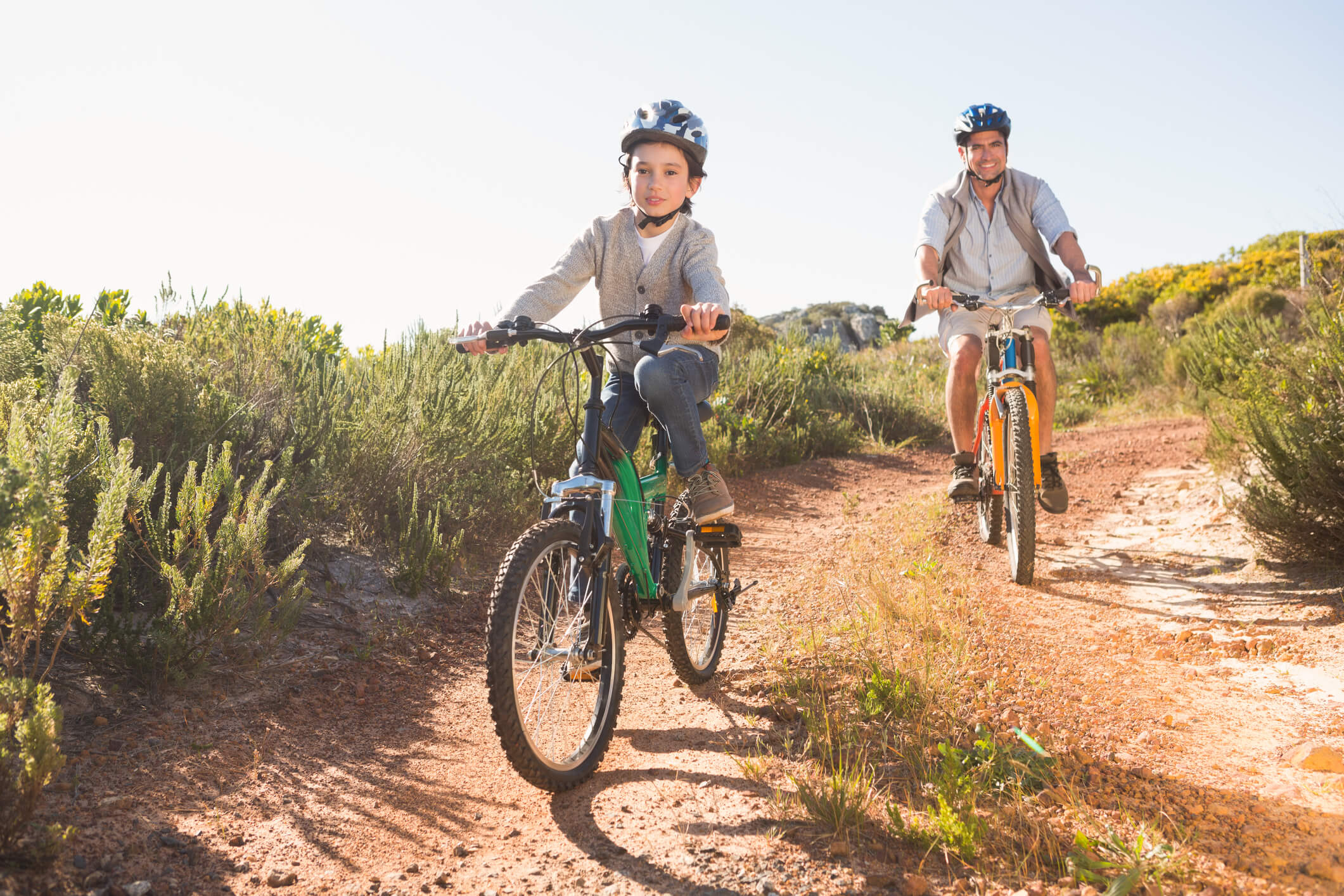 Cornerstone Park
For families who are only just getting started enjoying bike rides as a group, Cornerstone Park's paved trail is an excellent starting point. The bike path forms a 1.25 mile loop around Railroad Lake, which is a great distance for smaller kids, and you can ride around multiple times for even more exercise. The park features shaded picnic areas located a short walk from the parking lot so you can stop for a snack or some lunch between rides around the loop. The trail itself offers very little shade, if any, so consider wearing hats, sunglasses, and sunscreen, especially on particularly bright days.
Burkholder Trail
Burkholder Trail is a paved path that spans from the Lake Mead Parkway to Henderson's River Mountain Loop Trail. The family-friendly bike route is 3.2 miles long and is perfectly suited to those in search of an effortless, fun ride. Burkholder Trail hugs the north side of Heritage Park and those who traverse the path will undoubtedly enjoy scenic views of the park's beautiful landscape. Should you decide to take a break to have a snack or a meal, there are benches thoughtfully placed throughout the trail. It is important for those who ride along Burkholder Trail to be mindful of traffic, as the trail intersects a number of streets along the way. While certain stretches of the trail are shady, it is mostly in direct sunlight.
Wetlands Park
One of the longest bike trails in the area, Wetlands Park bicycle trail is a 14-mile loop, the majority of which is well suited to riders of all ages. 9.5 miles of the trail in Wetlands Park is paved and wide enough for families to use with ease. Within the park's nature preserves bikes are not permitted, however visitors are encouraged to enjoy the three unique habitats the park contains. The park provides picnic areas for those who wish to bring their lunch or snacks, and the Picnic Cafe offers indoor dining.
Related Local Amenities & Resources Content: